Ontario Tumour Bank
With samples from more than 20,000 participants across 30 disease sites, OTB is one of North America's largest tumour banks and has over 175,000 samples in its inventory, consisting of FFPE and fresh frozen tumour tissue, matched normal adjacent tissue, blood plasma, buffy coat and derivatives. A wide breadth of clinical data accompanies each and every sample, including histology, patient/family history, treatments, systemic therapies and up to 5 years follow-up/outcome data.

OTB provides customized services to meet the needs of research projects of all sizes, including the prospective procurement of fresh surgical tissue and fresh whole blood. That's why researchers have trusted OTB to source 44,000 samples for more than 360 oncology projects over the past two decades, resulting in more than 160 total citations including 31 in Nature journals.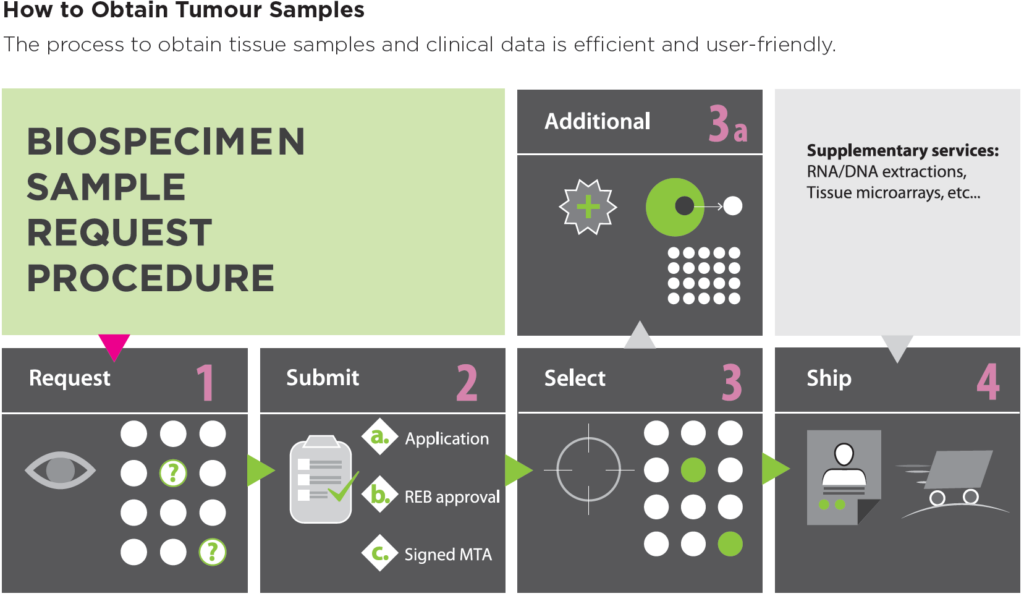 For Researchers
The high-quality biospecimens, derivatives and clinical data are an important resource for scientists engaged in translational research who are developing better diagnostic tools and new drug therapies. Researchers can depend on OTB to provide products and services of high quality, diversity, and integrity.
Find out more for researchers

For Patients
OTB is committed to ensuring that the collection of research biospecimens does not interfere with patient care and that the privacy and confidentiality of all volunteer donors are maintained. Informed consent for tissue collection and research use is obtained from all patients.
Find out more for patients
OTB Facts

A founding member
of CTRNet, the Canadian Tissue Repository Network, along with 5 other top-tier Canadian cancer biobanks.

Academics
are extended a price that represents a 50-90% subsidy from the true cost.

OTB collects
1500-1600 new donors per year, representing over 10,000 new aliquots.
Our Partners
Participating Hospitals