Governance of Ontario Tumour Bank
Ontario Tumour Bank (OTB) is a program of the Ontario Institute for Cancer Research (OICR), which is a not-for-profit corporation funded by the Government of Ontario. OTB is governed by OICR's Board of Directors which provides oversight for this program as well as other OICR programs and initiatives. The governance structure and management of the program ensures that tissue samples and de-identified clinical data are provided to academic and industry researchers within a framework that meets the highest societal standards. In addition, at each collection centre, the principal investigator chairs a local management committee to oversee operations of the program locally. Members of this committee can include senior administrative management and department leads from medical, surgical, radiation oncology, nursing and pathology.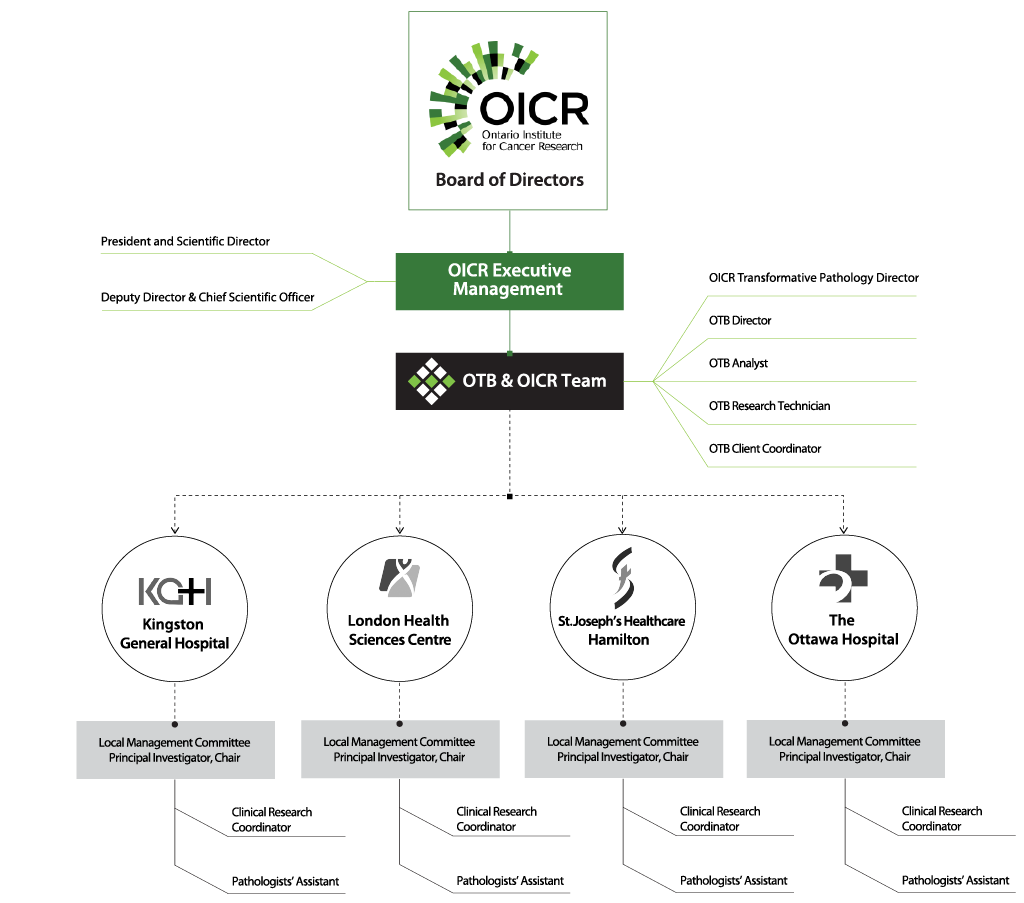 Bioethics and Privacy
OTB is committed to employing best practices to ensure that the collection of research biospecimens does not interfere with patient care and that the privacy and confidentiality of all volunteer donors are maintained. Informed consent for tissue collection and research use is obtained from all patients. OTB and participating healthcare institutions comply with all existing Canadian federal, provincial and institutional requirements pertaining to the participation of patients in research as well as the collection and use of research biospecimens and accompanying clinical data.
Collection of research biospecimens and associated clinical data has been approved by the research ethics boards of participating healthcare institutions. All research applications for biospecimens and clinical data must be accompanied by documentation of compliance to ethical standards (e.g., ethics approval) relating to the the research study at hand and are subject to further review and approval by an internal Material Access Review Committee (MARC). MARC is comprised of volunteer committee members with expertise in pathology, clinical science, translational science, and statistics, who review research proposals for scientific robustness to ensure the best use of OTB biospecimens.
All biospecimens and associated clinical data are de-identified so that a donor's identity is inaccessible to OTB central staff and recipient researchers. OTB is audited by the Office of the Information and Privacy Commissioner of Ontario (IPC) on a triennial basis for adherence to privacy protection requirements per its Prescribed Registry status under section 39(1)(c) of the Personal Health Information Protection Act, 2004 (PHIPA).